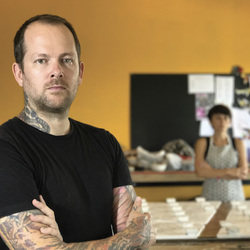 Nationality :

French

Age :

46 y.o.

Residing :

France
ROD
Painting, Sculpture, Mixed technique
Artist's prices ranging from
5 000 € to 40 000 €
Followers Art Traffikers
13
What is art to me ? A way to put up with the world in which I am obliged to live in. A catharsis…although my artworks are my liberation, I like to remind people that the Devil is in the detail...
ROD
Introducing ROD
ROD ? One word, « powerful »…Among Art Traffik's selection, he is one of those artists whose works should quickly be bought while they're still "affordable". In just a few years, he has made a name for himself at an international level; he even earned a special mention at Miami's Art Basel 2019. This was a turning point for him, allowing him to enter the big league, by obtaining the recognition of collectors and the art market alike.
And, as always, a catalyst was responsible for this breakthrough. But for ROD, this was due to a series of elements, which, accumulated during one remarkable year, are what "completed" the Artist he is : meeting Stella (his life companion and creative sidekick), parenthood, and his relocation to a workshop in Bangkok, set up by a benevolent philanthropist.
But I'll come back to this later for it isn't simply anecdotal : from these successive events came about a ROD that is alert and revived, and which helped reveal his deep and authentic desire to create. A liberation from which the quality of his artworks benefits. What a journey for this artist who first started out as a film set designer…
Yes, there's quite a buzz going on around him. Art Traffik, who has been following his career closely since 2014, was right on the money and is all the more proud to represent him…
A universe that is all his own, a strongminded approach, a genuine commitment, and a truly unique technic ; his artworks represent all these qualities…and they don't go unnoticed. Not to mention their size or presence; his works are quite…imposing.

 

Firstly, his universe, his "DNA"…which he summarizes in two expressions : "the invisible visible" and "the Devil is in the detail" and expresses in two series : "Fragmentation" and "Super Heros". As meticulous and striking the aesthetics of his artworks may be, there hides a secret meaning or message, his catharsis, as he puts it. The common denominator being an explosion…a liberating explosion of tensions.

 

For the « Fragmentation" series, he refers to a bomb…a cluster bomb. "In weaponry, a cluster bomb is an aerial bomb, simple in design, which explodes before reaching its target, liberating thousands of fragments that are dispersed in either random or precise directions, depending on the desired effect." He selects pictures and images based on a topic, a theme, or a message that revolts him regarding our society, that he blows up in tiny cubes with which he then creates an airy assembly.

 

The message and photographs are no longer "legible" but they're still there. Just like the significant amount of details present in a "whole" that disappear when looking at the overall picture. ROD goes on to admit a part of a "lie" because the sum of those details creates his artwork, hence, the message (the strength of the artwork), hidden at first glance because stifled by aesthetics, is yet ever so present. The title alone is key to authentically interpreting the message's subliminal meaning, which is pointed directly at us and the subject matter.
Stricken at first by the artwork itself and its aesthetic detonation, the message then follows in just as many fragments. Stricken at first by the artwork itself and its aesthetic detonation, the message then follows in just as many fragments.
More information on the series
The « Super Heros » series also toys with the explosion of space, colors, mass and…of emotions. Before fragmentation, Comic book characters were ROD's first subjects, way before they were in style or "trendy", as has also become street art, in the small small world of art and art collectors.

 

The world of super heros has always been a topic that relates to ROD's intimacy : "the perfect mirror, reflecting the fears and ambitions of the American society, crystallizing the irony of humanity's ferociousness, and whose weaknesses are an endless source of inspiration to me." As such, he was the frontrunner of this trend, not a follower. With his artworks that "break out of the frame(work)", in every sense of the word, he explores and blows up the spectrum of his emotions which resound in all of us : anger, sadness, solitude, hope…with meticulous colors and volumes… 

 

A series ROD has dwindled out, overshadowed by "fragmentation". Although this theme is still present, for it is dear to him, he only creates one or two colossal artworks per year, with a highly polished staging, therefore, being only major artworks.
More information on the series
As you'll have caught on, nothing is "free" in ROD's artworks, even more so since the combination of events I mentioned earlier. In addition to the undeniable progression in tending to and mastering his technic, ROD now dares, by virtue of the freedom he has gained, which he fully embraces, and is encouraged by his creative sidekick who is none other than his life companion, Stella.
ROD always strives to go higher and farther, and deeper in his will to express himself, candidly. He recently broke his last barriers in order to attain what is essential and dare express it. "La Pieta" was the first; an artwork he had on his mind for a very long time, which Stella encouraged and helped create. From now on, each artwork is thought, created, conceptualized and produced by this duo.  And, don't be mistaken, Stella is more than just a muse to ROD; she has become a key element in the alchemy from which ROD's artworks arise.
Now, you only need to sit back…and enjoy the discovery, whether you are merely content with the aesthetics and the pictorial strength of his artworks, or wish to probe through his universe, reading into the second, third or fourth degrees ! Remember…"the invisible visible" and…"the Devil is in the detail".
Be that as it may, be aware, he is an artist on the rise and very determined to see his artworks explode and ignite his own ascension…as an Artist !
Artist on video
Latest posts about the artist