Reselling an artwork. At what price and most importantly…how ?
Because you're ready for a change or you have grown tired of a painting or simply because you need cash, you've decided to resell an artwork. But unless you're a confirmed collector who's used to buying and reselling artworks, are savvy about the tricks of the trade and have the right contacts, it isn't that simple. We could even say that it can be quite a complex process...
Not to mention the way gallery owners are insistent in reminding you that if you bought the artwork, well, it's because you fell in L-O-V-E with it; to resell it is, by gosh, blasphemy ! It's like a marriage: you don't think of divorce the day of the wedding! I mean c'mon !
On another note (pardon my sarcasm...) and if you're not afraid to burn in hell if you resell an artwork: through which channel, with whom, at what price, what fees ? As many questions as there are issues, especially if you want to get a good price for it, at least the purchase price. Even better, at the artists "market value price", if it has gone up…
Although we feel fine about reselling our used couch at a bargain price, an artwork, on the other hand, is seen more as an investment which we value and want to maximize, and, eventually, make a profit from reselling it. Not to mention the fact that the art market conveys and maintains the delusion of an artist's "market value" whose record auction prices are published by the media…so why shouldn't you, to a lesser extent, obtain a "good deal" too ?
In contrast to a couch, "an artwork cannot be bargained"…Art Traffik, who fervently defends its artists, the value of their work, will not tell you otherwise ! Yet, one must admit that reselling an artwork is by no means easy. Even though the "first market" (the artwork's initial sale) swarms with market players, the "second market" (that of resale) is more…complex and scarce.
So, what do you do ? What are the possibilities ?
First option :
Ask the vendor if he would buy it back…if you're dealing directly with the artist that sold it to you, the chances of him/her buying it back from you are slim and very rare…unless you are a confirmed collector and are a very good client. The same goes for galleries…Galleries prefer having recent artworks, and if they accept to buy an older one back, they'll ask for a commission, hence, reducing the price you were hoping to get for it. I mean, why should they offer an artwork with a reduced commission, when, in general, they ask for at least a 50% commission ? Excepting that your artwork has something special which makes it unique and exceptional amongst the artist's other artworks. This option is not only rare but may also reduce your selling price…unless you bought the artwork from Art Traffik, but we'll get into that a little further down.
Second option :

Auctions…this is quite the obstacle course…unless, of course, you're selling a Picasso, a Rembrandt or a Renoir…if this is the case, the auction houses and auctioneers will roll out the red carpet for you and will compete to have the artwork… But if you have an artwork, by an artist who isn't one to beat the records reported by the media, even if exhibited in reputable galleries, it will be subject to certain conditions, and will incur costs.

 

First step : finding an auctioneer who will accept to take your artwork, deemed worthy of his gavel and his salesmanship, and, of course, his address book. Yes, you must accept the fact that an auctioneer's goal is to sell, at the highest bid. For this, he'll look at your artwork and ask himself :

 
Do I have, in my address book, at least two people possibly inclined to buy the artwork? Because he wants to sell it "well" (not at the minimum reserve price*), he'll need at least two people who will fight for it and make the price go up.
How much is it worth ? and how much can I get for it ?
Does this artist have an "official market value" ** ?
So, preferably, find an auctioneer specialized in selling artworks, or better yet, specialized in the artwork's era (classical, modern, contemporary…), if not, you might find yourself in a "general sale", surrounded by commodes, chairs, vases, thereupon, diminishing your chances of having your artwork "seen" by an informed buyer.
Second step : the expertise. Your artwork must be evaluated by an expert. You'll have to hand the artwork over for an evaluation of its characteristics (size, year, technic…), its author (does the artist have an official market value** to refer to or are other of his/her artworks exhibited in galleries for price reference ?) and an amount of subjectivity regarding the very quality of the artwork. Keep in mind that he'll also be accountable for its authenticity, hence, the importance of always keeping the certificate of authenticity delivered with an artwork (whose authenticity is also verified). The expert will thereby determine the "expertise price" which will be displayed in the catalogue, on the day of the auction, in addition to the "minimum selling price" established by the auctioneer, price at which the bids start.
Third step : the sale (or not) during the auction. We wish you to have buyers, many at that, for they will help make the selling price go up, by virtue of the law of supply and demand.
Fees : for any auction, there are fees at the charge of both the buyer and the seller, to remunerate the auctioneer. For you, the seller, a 15 to 20% fee will be paid out of the "gavel" price, but know that this fee is negotiable…Note also that the buyer will also have to pay the gavel price plus an additional 25% (VAT included). The buyer often calculates this amount and integrates it to his bidding as to avoid any unpleasant surprises when making out the final check…but this has a tendency of "limiting" their auction frequency.
As you will have understood, auctions are uncertain, by essence, just as are the selling prices, less estimated fees. No to mention the time and efforts you'll have spent.
However, there are ways of simplifying things for you:
Brokers that will take care of everything for you, but alas, this isn't free either and it doesn't automatically guarantee the sale of your artwork.
Websites such as catawiki.eu which will also take care of everything for you, after submitting to them pictures and details of the artwork, and eventually submitting the artwork itself (prior to the auction). But this also entails fees.
Third option :

Ebay.com, Facebook marketplace and other digital platforms where individuals can arrange to buy, sell and trade items with other people, but they are not specialized in any particular domaine and your artwork might end up drowning amidst other items of all sorts. Also, those who visit such platforms are usually looking for a good deal and don't want to spend alot…but, hey, why not ? And, although this might be the ideal place to resell your old couch, chances are you won't be able to resell your artwork at the "right" price…
Fourth option :

Friends or relatives who could be interested in your artwork. This is always a possibility, but you might have to offer a « reasonable price ».

 

As you've probably caught on by now, the Art market is not the least painfull or most reassuring when it comes to reselling. Whether it be with the idea of simply exchanging an artwork or reselling one, both usually hinder a buyer when purchasing an artwork. A hindrance to the purchase itself or to the amount you'll "dare" spend on an artwork you fell in love with.

This why Art Traffik offers a 5th and 6th option !
Fifth option :

Reselling using our small ads specialized in art, intended for users to buy and sell artworks with others, WITHOUT COMMISSION. Indeed, Art Traffik offers its small ads service dedicated entirely to the resale of artworks and will make every effort in optimizing your ads visibility, by posting it on its website and sharing it with its community, along with sharing it on social networks. Direct contact between the potential buyers and sellers via Art Traffik's website message service, without intermediaries, and without commission ! Post your ad today !
Sixth option :

A 5 year buy-back guarantee. Granted, only Art Traffik offers this possibility and only for certain artists. But if you decide to purchase an artwork with Art Traffik, and subscribe to the guarantee, we pledge to buy it back from you, at its initial purchase price, within 5 years of purchase. We are ready to commit to the value of the artwork, giving you, in turn, the possibility of changing it, without any hassles. Discover our buy-back guarantee !
There you have it ! You now know everything !
If you still have questions, don't hesitate to contact us, we'll more than gladly answer them !
* Reserve price : minimum price you set, prior to the auction, that allows you to not sell your item if the reserve price is not met by offers.
** Official market value : quoted price based on auction selling prices of an artist's artworks. If an artwork is not sold during an auction, then the expertise price will be retained. However, if it is sold then the selling price (gavel price without buyer's fees) will be retained.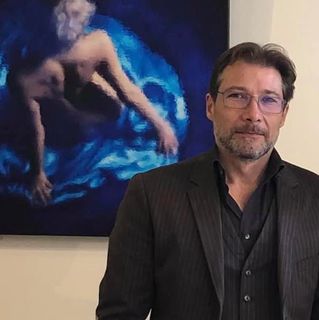 Article published by LJ Art Traffik