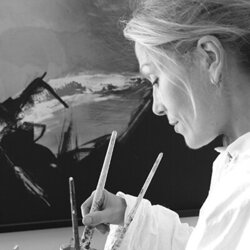 Nationality :

French

Age :

69 y.o.

Residing :

France
Artist's prices ranging from
500 € to 5 600 €
Followers Art Traffikers
0
Why Black ? Because of White; Incontestable duo.
Chris
Introducing Chris
Meeting Chris was both a human and an artistic encounter. She has a sweet personality (even down to her voice), is humble (in the words she speaks), but is also bubbly (as her childlike eyes). Her artworks ? Intense, powerful yet poetically delicate…Since she is one of those artists capable of mesmerizing you while speaking of her work, I will give her the floor. Here is what she has to say about her career path and her artworks.

 

« At the age of 10, and with the help of a feather, I discovered the magic of black and white etchings. I was fascinated by the striking contrast. I can say that my work with black and white stems from here. The search for light and the staging of opposites are the basis. An enthusiast for very big formats to be in sync with the materials I use, I choose different medias depending on the theme and technic : ink, lacquer, acrylic, whether on panels, canvasses or Bristol board. Consequently, choosing the right tool is essential.

 

During my first period, which I consider to be "semi-figurative", I wanted to transcribe the mysteries of night. It was the starting point for "various blacks" in a chiaroscuro atmosphere. The winter mood, noisy or silent alleyways in Spain, mirroring raindrops on cobblestone, fort walls in Prague, all drew my attention. This inner voyage led me to this strange and secretive world of night, through a forest, and to the spirituality of a crypt sublimated by the bright and potent presence of white.
A new period relating to my work as sign painter allowed me to experiment calligraphy freely, and give way to the abstraction of sound and pictorial shapes and lines. Afterwards, I wanted to regain tranquility and meditation through the use of ink, with its fluidity and different shades of gray. In triptychs, I elaborated the theme of hoards, with their intense luminosity.

In the aftermath of this ethereal atmosphere, I embodied the confrontation of natural elements with strong and powerful gestures ; the sea, land and sky unite in total synergy. In this continuity, painting what is colorless and invisible could be my next chapter. »

 

So ? Enchanted yet ? Art Traffik certainly is. And, even though Chris is a discreet and reserved artist, many art collectors have purchased her artworks and follow her closely…I invite you do the same!
THE ARTISTS SHE ADMIRES :