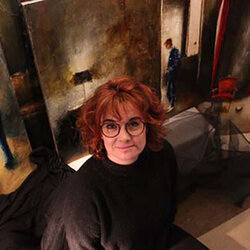 Nationality :

French

Age :

51 y.o.

Residing :

France
Virginie Mézan de Malartic
Painting
Artist's prices ranging from
150 € to 6 100 €
Followers Art Traffikers
0
It is the depiction of Being, with its areas of light and shadow, toying with emotions and feelings.
Virginie Mézan de Malartic
Introducing Virginie Mézan de Malartic
Virginie Mezan de Malartic… it is time standing still, a freeze frame of daily life, a play or of a movie set on "pause"…in which you imagine the story, moments before and after…

 

It's also a particular mood in which lighting and colors sublimate the moment, that precise moment, frozen, leaving it to the imagination, making it touching, moving, and subtly aesthetic.

 

We have been following Virginie's work and her evolution for several years now. What appeals and is most seducing to us is the ambiance she sets in her paintings, which she has progressively intensified. The effect obtained, partly due to the accentuated color contrast between noble classicism and modern vitality, the other due to the exquisite lighting which she now masters, gives her artworks a spectacular outcome.
Her technic, using oil paints which she applies with a knife, creates a rich texture with uneven contours giving her paintings a soft and elegant feel…

 

In the scenes and the moods that emerge from this process, you begin to imagine sounds, touches, even scents…while contemplating Virginie's paintings, you escape within the story they evoke. A figure whose posture creates an enigma; a judiciously placed object drawing your attention…
So much material feeding our imagination, our life experiences, our sensitivity, resonating with the painting.

 

Even Virginie Mezan de Malartic's titles are riddles, leaving us to decipher them, based on our sensitivity and transposing our own emotions.

 

At that point, aside from their aesthetics, Virginie's artworks become intoxicating: to own one, and to be able to look at it every day is like opening a new book and letting your imagination roam freely, allowing your sensitivity be the author of your emotions.

 

Time stands still…in conclusion, you'll have come to understand that we are fans of her work…You'll also appreciate her affordable prices because Virginie wants to remain accessible, even though, in different art galleries, her prices go up every year.
THE ARTISTS SHE ADMIRES :
Latest posts about the artist