Patrice PALACIO – « Point Plan Trait » Series
Patrice PALACIO's « Point, Plan, Trait » series reveals the artist's technical and pictorial talent, as well as his progress. It isn't surprising that his artworks were chosen for the 2020 exhibit of the Paul Valery Museum, in Sete... 
All the series' magic resides in the simplicity of the craftsmanship of his artworks, which if seen up close, are composed of a geometric plane, with dots and lines…but as you step back, the architectural complexity slowly reveals itself. Or, how minimalism can render a photograph, at the right distance. 
As Patrice progressed in this series, from one painting to the next, he went further into achieving a more accomplished minimalism, hence revealing the complexity of urban life, all the while beautifying it. Created without initial photographs, the paintings are the fruit of Patrice's inspiration of actual life. They are all the more surprising when you know that 90% of the paintings he creates he does without ever stepping back. He'll only step backwards for the remaining 10%, in order to bring the necessary touch-ups and to complete the artwork… 
The series is composed of two different manners and rendition : the first, on which the skyscrapers evoke New York, originate from a gray, diurnal « plane », while the second originate from a black, nocturnal « plane », inspired by London. The latter marked the culmination of this series. 
Because black and white are a trademark of Patrice Palacio's work, we invite you to discover his other artworks, such as his seascapes, his forests and his portraits… 
more information about the artist
more information about the artwork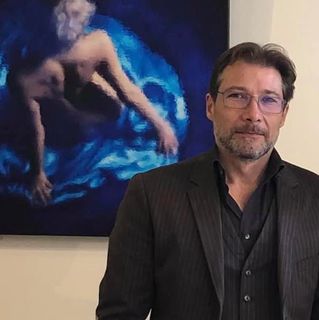 Article published by LJ Art Traffik