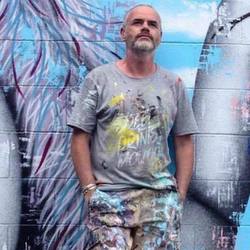 Nationality :

Irish

Age :

55 y.o.

Residing :

United Kingdom
Fin DAC
Painting, Paper art
Artist's prices ranging from
600 € to 3 800 €
Followers Art Traffikers
40
Inspiration is a gift from the universe, talent is an ability to bring it to fruition and humility is what you should achieve when you share it.
Fin DAC
Introducing Fin DAC
Fin DAC….

 

Needs no introduction !

 

Having acquired international acclaim for his artworks, notably the monumental ones, eminently recognizable and admired around the world : Asian women, whose eyes he dons with a "splash" of color. Either dressed in contemporary clothes or traditional outfits such as his "Geishas".

 

Women selected and honored by Fin, his icons, and whose name or Instagram he always mentions.

 

Often imitated, but never duplicated…I won't dwell on his technic, his mastering of spray paints, whether perched on a crane, several meters high, in order to embellish the façade of a building, or in his workshop. Either way, the result is unparalleled, living up to his extreme attention to detail.
Nor will I go into depth regarding his style, his DNA, which has enchanted street art enthusiasts and collectors alike.

I will simply let the artworks speak for themselves. Artworks we are proud to present to you, now available for purchase…

 

Fin will regularly provide us with new artworks (but that doesn't mean on a regular basis !), and we will announce their availability and publication on our website (date and time) via our newsletter.  So, if you wish to be informed of their arrival, subscribe to our newsletter and mark your calendars…Experience shows that stocks don't last long !
Artist on video
Latest posts about the artist