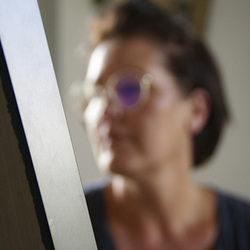 Nationality :

French

Age :

51 y.o.

Residing :

France
Artist's prices ranging from
600 € to 2 100 €
Followers Art Traffikers
9
How would I define my work ? ... I don't really know, but if it was to be put in a box, I would say it would have to be the "unjustified figurative" box (laughs).
Madame Lacan
Introducing Madame Lacan
Since just once isn't the norm here, we discovered Madame Lacan's artworks thanks to a customer (and one must give credit where credit is due : thank you Valerie E.). And what a discovery it was !

 

Stephanie, her first name,  is a « UFO » of the art world in the sense that she is entirely, 100%, a self-taught artist, and yet, what talent, what wonderful paintings !

 

Drawing or painting classes ? None, never. An artistic education or culture or even an artistic upbringing ? Neither. She is a total novice; she started from scratch. She simply "came across" some paint brushes and decided to use them. And I quote her : « I came to paint, daftly ».

 

Her story ? Her daughter had chosen art classes as an option at school, and there were tubes of acrylic paint left over. In 2012 (only 8 years ago), Madame Lacan decided to use them, to try out her artistic capabilities; without any pretension or intention, she took such pleasure that she fell head-over-heels in love ! She says that painting is like "ecstasy; a pleasurable side effect worthy of a drug that I keep coming back to, and that I can't and won't give up". Indeed, Stephanie Lacan hasn't stopped painting since; she devotes all her free time, allowed aside her professional and family life. "I don't know where it comes from, but it has become all-consuming."
A year later, she decided to try out oil paints, as a personal challenge, and found it more comfortable and nimble, although oil is known to be more "technical". But, not for Madame Lacan…she began with black and white to learn to grasp lights and shadows then shortly moved on to colors.

 

To hear her speak, she simply took pleasure and thus wanted to progress, learn, improve, and challenge herself. Note that she could have chosen folk art or abstract…instead, she chose figurative art ,with all the complexity it entails…
So, yes admittedly, painting is known to act as an escape, a way to relax, and many people indulge in this craft, which was Stephanie's case, and always without pretension or intention…yet, to the best of my knowledge, all those who paint (or who sow, cook or garden as a way to relax) do not exhibit their artworks in galleries !
But here's the thing, what some have tried to attain, but whom have either failed or have attained through lots of hard work, Madame Lacan has reached in a very short time, instinctively and naturally: a technic, a unique style, her DNA…the result is her portraits which her entourage rushed to buy from her. One, two, three artworks…by word of mouth…the first local exhibitions…and here she is now, in galleries, Art Traffik being extremely flattered to represent her and to offer her all the recognition she deserves.
Don't ask her « why women ? why portraits ? why this style or this color palette ? what is the message, etc etc. " She'll genuinely answer "I don't know". It isn't to avoid the question; she truly doesn't know. Portraits ? It just came naturally to her. Of course, she has tried painting animals (a rooster), but it was "to learn to paint the complexity of feathers and hairs". Why such a color palette ? Silence…

 

She paints instinctively, with her desires, and that's what Art Traffik loves in artists. They paint with their hearts, their soul, rendering their brush strokes authentic and sincere; that is what makes their identity. It is a part of them which is projected onto the canvas. This is why Madame Lacan defines her own work as being 'unjustified figurative": she is constantly asked to put into words something which she herself cannot describe.
Where do these faces come from ? Madame Lacan is inspired by photos she finds on the web and magazines. From there, a face will strike her (without knowing why) and she will start by drawing it on paper, transforming and adjusting it to her liking, sometimes adding an accessory (still without knowing why) and then proceeds to paint it on canvas, with a craving to paint, the paper having been the appetizer, rediscovering the addiction of the paint brush, enriching it with her color palette, the nuances of the skin, shadows, styles that all her own and which make her portraits identifiable.

 

Series ? Madame Lacan will answer « yes, I have many series. But some are made up of only one canvas (laughs)." Here again, everything is carried out under an impulse, depending on Stephanie's desires. Just like her latest artworks, with solid colored backgrounds or these portraits of women of different ethnicities, like the giraffe woman or women of the lip plate tribe that are a part of a "series". Or even pietas or other artworks bearing religious iconography, often seen in her works.

 

But we must understand : a longing will arise, with perhaps the intention of a series ! A painting will be the fruit of that longing. But if Madame Lacan has a new desire or grows tired of her series, or if just one painting quenches that desire, she will end that "series".
While exploring her many desires, however, her artworks carry the same identity; this is undeniable. They bear the same personality Stephanie Lacan infuses in them, through the use of her color palette that is all her own and absolutely "random".

 

So yes, I was completely bluffed to learn that the paintings I was discovering were the works of a self-taught artist, with only "8 years" of practice. What a technique !...with such a strong and established identity. Accomplished ? Yes, per se, or she would not be a part of Art Traffik's selection. But there is very little doubt that her art will continue to evolve, to broaden, to improve. With the enhancement of her technique and her dexterity, the paint brush will become more and more a true extension of her desires, of her soul, with all the sincerity and humility that reside in her.

 

And perhaps she will find the answers to the questions that elude her today. Is it important ? Is it necessary ? For now, her artworks suffice in themselves, with these portraits that exhale her sincerity. In any case, Art Traffik is spellbound !
3 ARTISTES SHE ADMIRES