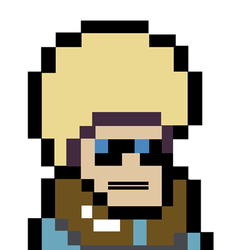 Nationality :

French

Age :

52 y.o.

Residing :

France
Leny
Digital art, Mixed technique, Painting
Artist's prices ranging from
270 € to 2 500 €
Followers Art Traffikers
0
I'm a whistleblower; art is my way of communicating, walls being my media of predilection. My artworks give wings to the messages I wish to convey, by multiplying them and making them universal : let's change collectively.
Leny
Introducing Leny
From my point of view, and with the risk of shocking, but I'll shortly explain why, Leny is to digital art what Banksy is to street art. They both have many things in common, including their choice of media; from the walls to the socially or politically committed messages they choose, not to mention the unchanging technic from one artwork to the next.

 

To begin with, they share the same media support : walls…the background of all Leny's artworks are photographs of walls, shot and digitally edited by the artist. When referring to "his walls", Leny will even go as far as to call it an obsession. He loves to hunt for and shoot walls, upon which his artworks will come to life. And, because he is also convinced that, if Man, Humanity continues down the road it has taken, "it is surely headed towards disaster, if nothing changes". Over-consumption, ecology, increasing stress, submission to codes imposed on us by society lead us to a single mindset…but according to Leny " Anything is still possible, if we develop our subtle awareness and modify our way of living".
Which brings us to the second common factor with Banksy: through messages and art, is their will to participate, animate, incite even, individual awareness towards a massif shift, in a resolutely positive manner, despite the seriousness and severity of the topics. They both use their art to reach out to the public and help "circulate" their messages. Leny's message ? "For over 15 years, I have focused my artworks on our planet, its fauna and flora, and the human beings that live in it. Our planet has reached its melting point".

 

This is why Leny has chosen digital art : it's a replicable media, in limited and numbered editions. Each artwork is issued in 12 original large format prints, a hundred for the smaller prints, therefore, at more affordable prices, more universal, within everyone's reach. And even though the prices of his artworks edited in 12 original prints are rising, Leny continues to make greater numbered, affordable prints. Because of his DESIRE to have his messages proliferate, digital art was the obvious choice.
Next, the invariable technic. While Banksy's works are stenciled on carefully selected walls to "carry" his messages, Leny uses a similar creative process. The "basis" of his artworks is an edited photograph of a wall; A background upon which he adds one or several pixelized elements (a character, an object). But don't be mistaken, these are "true" pixels, attained by digitalizing his pictures using a computer from the 80s (the ones the younger generations will never know)…a "vintage", authentic pixel straight out of the emanating digital culture of that same decade, in order to retrieve its values, its mind set, and to assimilate them in his artworks, long before the "all, now and right away" motto ever came to be…

 

Sometimes he'll digitally add on a picture such as the one of the gorillas. Once printed on canvas and mounted on a wooden frame, each artwork is enriched with a "message" hand painted by the artist, then signed and numbered on the back. The result is a recognizable style and universe, resolutely contemporary, despite the "vintage" details. More importantly, the artworks are always positive, with their lively colors, playful yet committed.
There's one last common ground between Leny and Banksy: the street and…being anonymous…for, with the will to widely spread his messages, Leny prints some of his artworks on paper which he then plasters, preferably without authorization, on street walls or other predefined areas. This explains his desire to be anonymous…but don't be surprised if you hear about Leny and his artworks. One day, one of his unauthorized posters will draw attention…

 

All these aspects make Leny an artist: committed, systemic, devoted and with a recognizable style. No one questions Banksy's artistic dimension, even though, his artworks are simply spray painted "stencils". Whereas Leny's artworks are much more complex than they seem. They are a true example of how Digital Art has renewed and enriched the scope of

possibilities in the art world, and it is gradually making its way into the art market, in galleries, fairs and exhibits.

 

For all these reasons, we are very proud and pleased to present to you Leny, whom we recommend, and who will quickly join the ranks of the "Master Certified" selection…