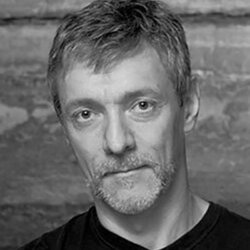 Nationality :

French

Age :

60 y.o.

Residing :

France
Artist's prices ranging from
200 € to 4 200 €
Followers Art Traffikers
0
I do not think my artworks. They come to life naturally, a composition of emotions ; I myself am guided by the materials that I use, touch and feel, until an emotion emerges from the material.
Etienne Boiteux
Introducing Etienne Boiteux
Certain paintings beckon to travel, an invitation to contemplate and to escape, even to meditate. Etienne Boiteux's artworks are amongst those…

 

Each canvas mixes abstractive and figurative art, and takes you to raw landscapes where you set the horizontal skyline, between land and sea, and create your own voyage. The horizontality of his lines, strokes and layers play with the contrast between shadowing and lighting, leaving to the imagination your own emotional destination.

 

Potentially, the lighting of the artwork achieved by Etienne's technic shall create as many landscapes as there are hours in a day. His artworks have a certain naturalness and minerality, not only because of what they may evoke, but also because of the technic and the materials he uses.
For, aside from the paint, resin and coatings applied, he creates art using sand, gravel, egg shells, using nature to reproduce nature but without "thinking" it; his creations are instinctive, in the moment and in the emotion.

 

Always looking for new mixtures, his artworks have a mineral touch, relief and brilliance.

 

These mixtures make his artworks come to life, depending on the light that illuminates them, even scintillating them, as many open windows overlooking these landscapes that allow us to escape. From the smallest format (40 X 40cm) to the largest.

 

Regarding the color palette, if gray, black and earthy colors are often dominant, Etienne likes to make his canvases more flamboyant by using livelier colors such as red, blue or ochre-yellow, but especially using different shades of white, creating light and depth to his canvases, which sublimates them.

 

His small formats allow you the possibility to create a diptych, triptych and more, whatever you desire, or perhaps would you prefer his larger formats for a fuller immersion ?

 

Feel free, as his artworks incite, and inspire you to attain a certain peace of mind.
THE ARTISTS HE ADMIRES :
Artist on video
Latest posts about the artist