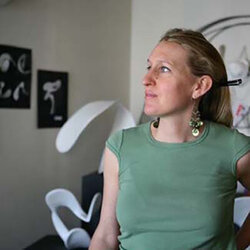 Nationality :

French

Age :

45 y.o.

Residing :

France
Caroline Poulet
Sculpture
Artist's prices ranging from
1 900 € to 15 000 €
Followers Art Traffikers
10
Poise is as specific to aestheticism as it is to geometry (architecturally speaking) or to organic matter, nature, all living things.
Caroline Poulet
Introducing Caroline Poulet
It is hard for us not to fall in love with sculptures but when we met Caroline Poulet and her artworks, it was an instant crush…that is why we are particularly pleased to present her work, because we are certain of her potential but also madly in love with her sculptures.

 

Her work is all about purity. The pureness of oblong shapes, of the materials and the colors.

 

First, the pureness of shapes… Caroline boundlessly works the magic evoked by curves creating her sculptures with a soft geometric, biologic or organic abstraction. Circle around it and you will see them become animated, gently coming to life, from a different outlook and the shading. Better yet, each of her sculptures possess several bearing points…different poises. Turn it over, flip it and a totally different shape appears, comes to life, making the previous one unrecognizable.
Then, there is the purity of the material; Caroline's sculptures can be manipulated and caressed. The feel is as smooth as the shapes are refined and natural. They offer as many visual combinations as they do tactile emotions.

 

Lastly, the purity of color: if white is her color of choice, which she wants pure, she also researches a wide array of colors that ultimately sublimate her sculptures. Caroline seeks perfection in her technic as to achieve a homogenous and dense outcome, where shadows and light arouse her artworks, bringing them even more to life, all with esthetic purity.

 

In that respect, Caroline creates her sculptures like nature's matrix, with an almost motherly relationship with the living forms she creates, which she then produces in limited edition, all the while varying colors and sizes, some even colossal.
We can only be moved by the aestheticism and the magic of her artworks, as we rediscover them, see emerge or be revived, depending which angle you look or the display position you choose, either inside your home or outside in your garden or on a terrace, keeping you company like a beloved friend.

 

Each artwork (shape) is produced in a limited edition of 12 maximum but each in a different color, making each one unique and a prime choice for collectors.

 

Caroline is in the "Master" category of our catalog, and is, undeniably, an artist to watch for because her future is promising…

 

 
THE ARTISTS SHE ADMIRES :