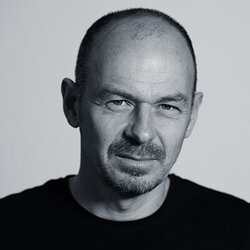 Nationality :

French

Age :

51 y.o.

Residing :

France
Artist's prices ranging from
1 200 € to 3 300 €
Followers Art Traffikers
0
My paintings are a universe in which realism and imaginary intertwine, setting the path to dreams, journeys and emotions.
Anthony Lambert
Introducing Anthony Lambert
For Anthony, painting was a sort of "coming-out" for it was in his forties that he decided to invest himself whole-heartedly in his true calling : creating, painting… A profound desire which he explains partly by his DNA upon discovering a that a member of his family, on the Russian side, was a painter…I don't think I'm being presumptuous by saying, in that respect, that the strength of his artworks originates from the frustration he is breaking free from. This makes him a tireless worker…a painter with exploratory technics, styles, moods…hence the diverse series.

 

But have no doubt, Anthony has presently decided to let loose, not hold back and let his painting desires run free…some will say he is still "searching" for himself, that assumption isn't totally false, but that would be missing his main intent: paint paint paint paint, depending on his wishes, ideas, and desires.
He started by learning the portrait technics, exploring hyperrealism, toying even with the "trompe l'oeil" which he masters perfectly, with which he plays with regularly. Pay attention, some of his artworks are not framed nor have a liner, despite what you see…This portrait of Dali is completely flat and is a perfect "trompe l'oeil"!

 

The result is an outstanding technician who continues to improve. He also develops a talent as a colorist that he lets develop fully and occasionally, as in this portrait of a gentleman in a hat...

 

Anthony is a versatile artist, steadily broadening his work, whom, in my opinion, will continue to surprise us; from one series to the next…

 

Definitely, an artist to follow…possessing a certain artistic maturity but at affordable prices, he is a trigger for "love at first sight" purchases.
THE ARTISTS HE ADMIRES :
Latest posts about the artist