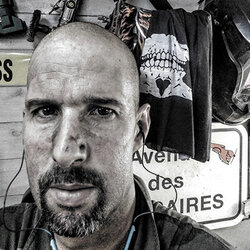 Nationality :

French

Age :

44 y.o.

Residing :

France
Aurélien Laborde
Sculpture
Artist's prices ranging from
1 200,00 € à 3 500,00 €
Followers Art Traffikers
9
From the hardness and the ruggedness of metal may come about the softness and sensuality of a woman's curves. In order to obtain that, one must truly love both.
Aurélien Laborde
Introducing Aurélien Laborde
Aurelien Laborde is an artist whose appearance is opposed to his being, just as his creations are the exact opposite of the material used to mold them, metal…If opposites attract, Aurelien and his artworks prove that they too can be transfigured…
You would more naturally expect to bump into Aurelien in a rally of heavy metal biker fans than in an art gallery or museum. Nevertheless, if you got to know him, or simply noticed his gaze, you would uncover a great sensitivity, a sort of angelical kindness, far from the tattoos he bears. You will find the same antinomianism in his artworks…from raw metal, often scrap, he creates the silhouettes of nudes whose sensuality, softness, and even feel, will surprise you.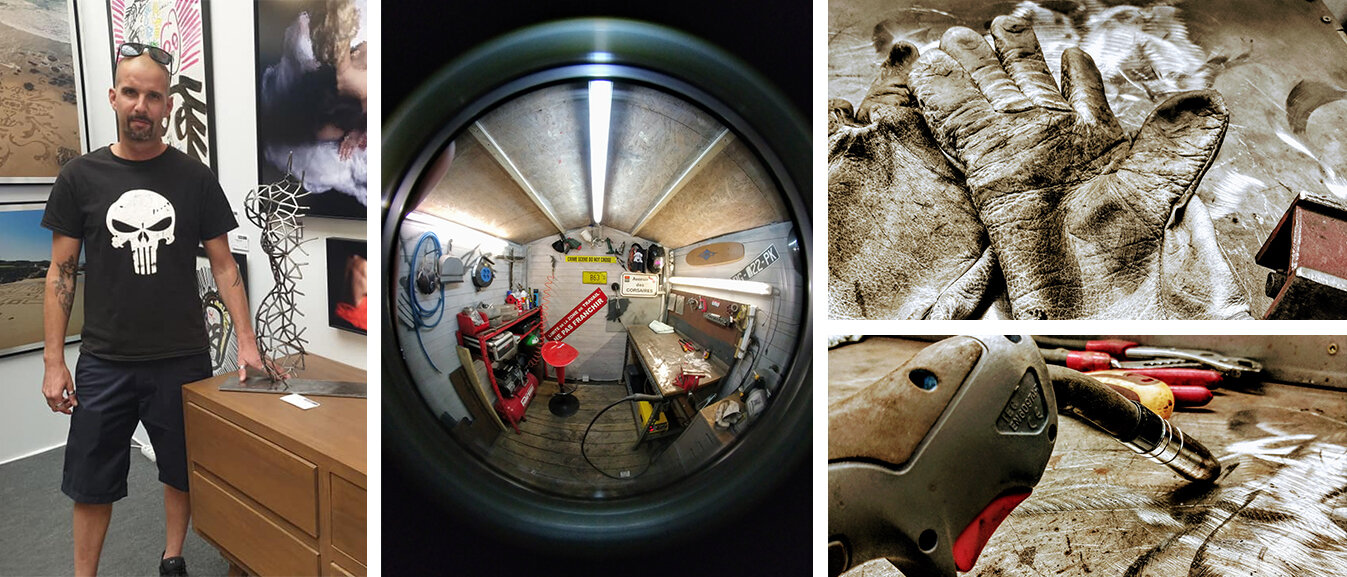 A self-taught artist, which he confessingly admits, in all modesty. However, when he came by the Art Traffik showroom to drop off one of his sculptures, while I was away, I was under the impression, upon seeing it, that it was the workmanship of a mature, confirmed artist, not the other way around. What a surprise it was for me when I went to meet with him in his workshop !!! I was moved by the man I discovered.
His subject matter : the female body, but more particularly the female bust…His material, metal, new or scrap, washers and bolts or even concrete iron. And although his first sculptures easily show what they are made of, he progresses and makes us completely forget this material opposite to femininity. Studiously, adjustingly and with care, he tends towards perfectionism…
His latest sculptures, these perforated, unfinished silhouettes, are sublimated in curves and render a certain smoothness, both in the bodywork lines and the feel….while it may be concrete iron, with its ruggedness, the end result is simply remarkable…before your eyes, stands a woman.
Aurelien's talent is also in the « spatial" arrangement of his artworks, their outlines, full and hollow, as if suspended, in mid-air. The design becomes all the more mesmerizing.
Granted, a young talent, but he is very determined to go as far as possible and to work harder; passionate and obsessed with his work and the culmination of beauty. But for the time being, he is still affordably priced compared to the maturity of his artworks…
THE ARTISTS HE ADMIRES :