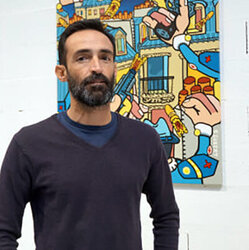 Nationality :

French

Age :

50 y.o.

Residing :

France
Artist's prices ranging from
500 € to 5 900 €
Followers Art Traffikers
0
I testify to daily life, to people and their little pleasures, their violence, their grandness, their ridicule, but without judgment…
Stéphane Gubert
Introducing Stéphane Gubert
This month, discover Stéphane GUBERT's creations in our viewing room and indulge in the immersive experience of a "Solo Show".
Beyond time and space, let your mind wander amongst his artworks and savor the artistic interlude.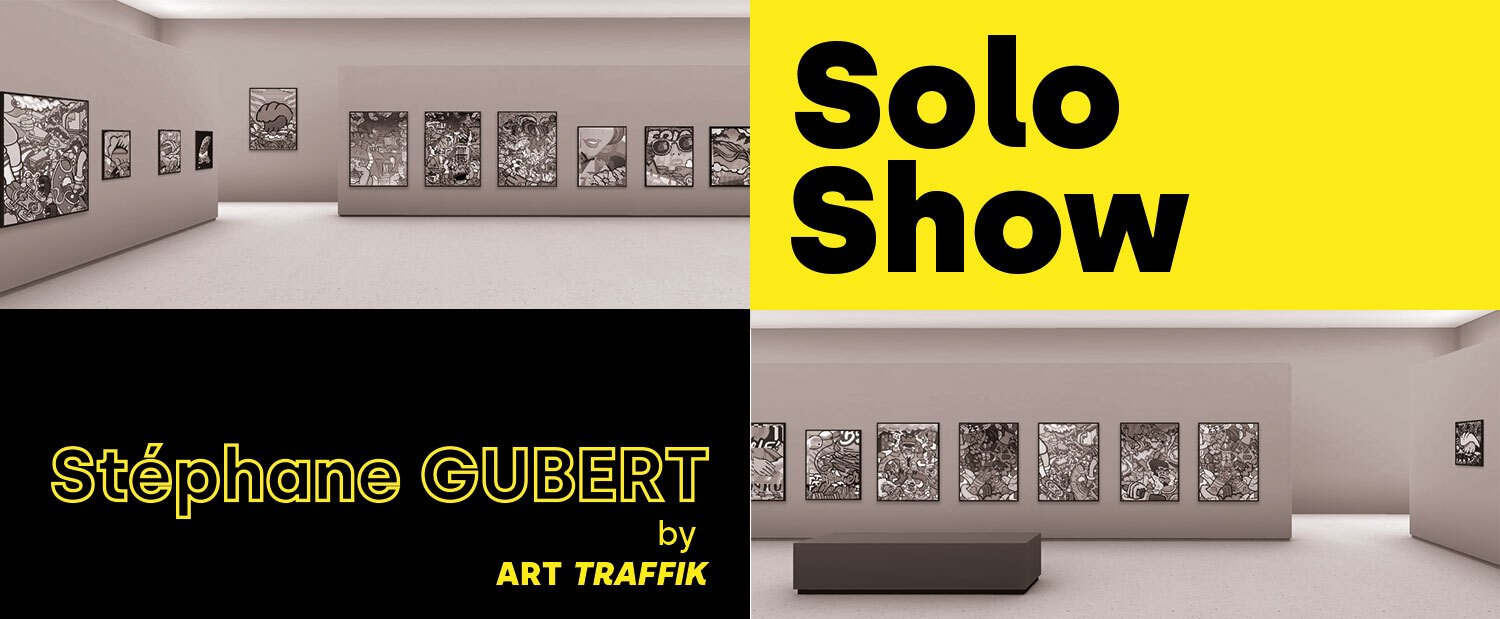 Stephane is self-taught who, through hard work, passion, and self-questioning, has revealed to be a very talented artist... The same pleasure and passion he applies in his artworks, with the spontaneity, which make them loaded with bits of himself.

 

His identity ?

 

A style : his own, even if inspired by certain artists he admires (you may have recognized Combas or Keith Haring), which he transfigures in acrylic, toying with street art or even comic books. This makes it difficult to put a label on him, and we love that…

His color palette is also at the core of his artistic identity, contrasted yet balanced, lively and dynamic, yet soft. Dense ? Certainly.
A universe : with his « Toutfou » or "Grosses" series, his characters drown in a décor filled with codes and messages…his subject matters come from the current events that surround us, which he diverts with derision, caricature and criticizes, through the prism of his style… "They are images that come to me in reaction to a topic or a theme, to which I am confronted, with mixed emotions, and without filters".

 

The whole brings about artworks that call upon us at first with their global, contemporary aesthecism. It is only with a second glance, by discovering a certain detail and the characters concealed, that the canvas delivers its message, its story, all the while leaving us sole interpreter of the assessment on the matter.

 

Does he have talent and energy ? YES. And he isn't done yet either which is why we are pleased to present him to you; discovering his artworks as they come never cease to surprise. Definitely to be followed closely !!!
THE ARTISTS HE ADMIRES :
Latest posts about the artist
All artworks by Stéphane Gubert
All artworks for resale by Stéphane Gubert
Expo/Biography
Expo 2018 -2019 Art Traffik - Anglet 
Expo 2012 -2013 Galerie des remparts - Bordeaux/Arcachon 
Expo 2011 Galerie Bober Paris 
Expo 2010 Galerie Memmi Paris 
Expo 2009 Galerie Memmi Paris / Paris Art Elysées / Lille Art Faire / Article Beaux Art Magazine (octobre 2009) / Edition art culture surf (Edition 2009) 
Expo 2008 Galerie Projection Bruxelles / MIACS 2008 (Marché International Art Contemporain) Biarritz / Presse Gazette de Drouot (avril 2008) / Lounge Art Gallery Bruxelles / Galerie Memmi Paris / Edition art (MIACS 2008) 
Expo 2007 Galerie Projection Bruxelles / Galerie Artwist Paris / Galerie Memmi Paris /Presse Gazette de Drouot 
Expo 2006 Atalante Bayonne /Broadway Gallery New York / Article presse New York Arts Magazine (juin2006) / Galerie Projection Bruxelles /Atelier Muniz Biarritz 
En 2004 Réalisation série de lithographies surf/snowboard pour le magazine Surf Session Réalisation de l'affiche 2004 de la fête nationale du surf (réaliser pour l'association des majors de l'industrie du surf – Quiksilver, Rip Curl,…) 
En 2003 Réalisation du calendrier 2003 pour le magazine Surf Session