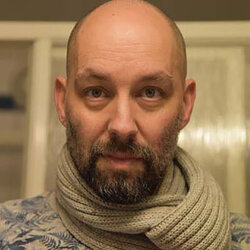 Nationality :

Portuguese

Age :

3 y.o.

Residing :

Portugal
Artist's prices ranging from
Starting at 2 300 €
Followers Art Traffikers
7
My love for photography combined with travelling, like a universal snapshot of our World, created the artist in me, in the emotional sense of the term.
Joao Santos
Introducing Joao Santos
There is a question Joao Santos never answers and makes him smile consistently : "Is photography a pretense for travelling or is travelling a means of photographing?" The fact remains that through his photos, Joao takes us on voyages.

 

A compulsive globe-trotter, the World, people, objects, with the scope and subject matter, are Joao's unintentional models, that all offer a view whose common denominator is Time. Far from postcard photography, he is committed to capturing, through scoped details, the meaning of time, our time especially. Each of his works freeze a certain time scale in which we are led to reflect on the esthetics of our World.

 

At times, creating a dichotomy by making two photographs into one, and at other times by using a thematic patchwork.

 
After studying at the Lisbon National School of Cinematography, city where he was born, he took up photography, as opposed to cinema, as a way to convey, provoke and share. To stir up as well, for his photographs distinguish themselves with the sensitivity and shyness he pervades in his artworks.

 

The photographs of the « Amnesia Series", which we are proud to present, were taken in Paris during the summer of 2017, and remind us of the works of new realistic artists such as Jacques Villégla, Raymond Hains and even Mimmo Rotella.
With the difference being, however, that Joao never tears down or creates posters: he photographs urban reality, as he discovers it and with the story it recounts. No editing, just the time lapse that occurs between the juxtaposition of advertisements and their tearing.

 

An allegory of societal times, with overlapped messages either torn or peeled away, by man or time, which end up telling us a story, our story. Between paradox, contradiction, to be or appear to be, each artwork captures our reality. Torn advertisement posters, with a certain framing, become whole and upright again.

 

In galleries since over a decade, having been invited to numerous events around the world and winning several prizes, Joao Santos is part of Art Traffik's "Certified Art Traffik" category. But he will surely soon join the Master Category…Stay tuned!
THE ARTISTS HE ADMIRES :