« Instants» by Virginie Mezan de Malartic
Or when an artwork « unlike any other » suddenly arises in an artist's atelier…

An indispensable quality, Art Traffik is particularly keen to in regards to its selection, is an artist's perpetual self-questioning and doubts, ultimately leading to a quest for the absolute, a sort of quintessence. This pushes them to work even harder, and to evolve. At times, this means stepping aside from their usual work in order to explore new horizons…

At worst, this explorative work will remain confined in the artist's atelier, unseen by the public eye, but will help nurture the artist's technique and "intimate" style.

As long as artists are engaged in this process, their genuineness remains pristine and will perhaps even prosper time and again…for the sake of the beauty of their works of art.

But sometimes, because of this explorative approach, an artwork will arise, « unlike any other » in the sense that not only does it distinguish itself by its style, subject or technique, but also by its aura. And that is the case here.

In that respect, Virginie Mezan de Malartic has all those qualities…and « Moments » is a perfect example of the Beauty engendered by such explorations…

And to be perfectly honest, no one would have ever seen this artwork if I hadn't paid Virginie a visit and gone into her atelier whereupon I discovered her painting set on the floor ; the very same painting that sold just 48 hours after having been exhibited in our showroom…after having generated a lot of interest by those who had seen it.

"Moments" is the result of sheer coincidence…With the artist's permission, I will explain how, a little lower, this artwork came to be. But first, let's dive into the universe she offers us.
To grasp its singularity, one must have tasted and must know a little about Virginie Mezan de Malartic's usual work. Her art is a perfect combination of an ambiance, a universe (made of shadows and light in which the oil paints, applied in successive layers with a painting knife, will create matter) and a figurative narration. A narration created by the presence of characters and/or objects in the painting from which will stem multiple interpretations by its spectators whose imagination and emotions are free to tell the story THEY wish to tell. Is the woman sitting on the couch waiting for someone ? Is that her book lying there ? To whom belongs the scarf hanging on the stair ramp ? Or whose are these wine glasses set on the table ? Lovers ? Friends ? Accomplices ?

 

Virginie Mezan de Malartic's art not only resides in the emotional and pictorial beauty of her artworks, but also in her capacity to make us wander, leaving us to our own imagination…

 

Each work of art is a scene in which stories are told, like short-stories or novels of which, guided by our emotions, we become the storytellers. Ten people will see the same artwork, yet each will depict a different story. That is one of the characteristics of Virginie's artworks that explains the "addictive" aspect her creations have on us, and I must admit that once someone purchases an artwork, he or she rarely buys just one…
This is where "Moments" is different…this work of art is a cluster of twenty other artworks, twenty scenes, twenty "stories", twenty ambiances juxtaposed in a "patchwork", their contours blending together. The whole creates an aesthetic marked by Virginie Mezan de Malartic's style, offering a multiplicity of details and scenes for which only she has the recipe, like so many moments…a kaleidoscope of dreams ? or like gazing into the windows of an apartment building at night ?

 

I would like to quote the art lover who bought the painting and has the pleasure of admiring this artwork, day in and day out : "Every day, I am constantly wandering and imagining, discovering new details in the painting. And, depending on the time of day, this feeling is amplified, for depending on the lighting, some windows will light up more than others. Every day this work of art tells a different story and I wander into each one."
How did « Moments » come to see the light of day ?

 

From the exploration I spoke of earlier…Virginie needs to practice incessantly, to work, to try out her colors, harmonies, perspectives and ambiances before moving on to the creation of a painting that is destined for a gallery…the same way a musician practices scales before a concert. On cut-out pieces of canvas or paper, she will test an ambiance, a scene, a "story"; "The work is more compulsive than when I begin an artwork that I clearly have in mind. It's more about the desire and pleasure to create an artwork than just its execution." And because the artwork stems from exploration, Virginie annotates her "sketches" with titles they evoke or questions she may ask herself about what she could do with her desire to create or what she would like to improve in the painting.

 

One day, Virginie pulled out an old finished, yet incomplete painting she wasn't satisfied with, and she began practicing and painting on it, with the same techniques of her "usual scales" but in overlay. She even admits that not only was she implicitly and unconsciously guided by the colors, lines and composition of the old painting, but also by the need and desire to cover it up entirely, and so she painted all these sets of windows. "It was like painting different treats, with a kind of compulsion." (Author's note : naturally, I speak of discovering a chocolate box when describing what I felt when I saw this painting in Virginie's atelier). And, for the same reasons she wrote, in the moment, the words "Life, passing through ?", "absence? Anyone ?", "+ light" on the canvas…Once the old painting completely covered up, or almost, for we can still distinguish parts of it (the random and compulsive juxtaposition of each universe, of various sizes, left some areas untouched), Virginie took it down from the easel and set it on the floor; with a peculiar feeling, left unattended and without looking at the painting in its entirety.
That's how I discovered it, in the corner of her atelier, but not with the artist's eye that focusses on each scene, but with the eye of an Art lover that saw it as a whole, then in detail, and…I savored it. I had to show it, display it, despite the artist's startled reaction "really ? but are you sure?" before she too saw it for the first time in its entirety, and finally conceded "oh…I see."

 

"Moments », to this day, is a unique artwork compared to all the previous artworks created by the artist. But it piqued Virginie's desire to try it again, on occasion; to redo the same exercise and rediscover the particular pleasure she felt doing it. And, mark my words, the artist's pleasure is sure to guarantee the same result ! There will be other "Moments"…which Art Traffik will be delighted to showcase of course, but it will be occasionally, entirely based on Virginie's needs and desires. So, if you want to be sure to catch the next one, stay tuned ! Next time, we promise to post it online before exhibiting it in our showroom. And, if you wish to be in the know, simply "follow" Virgine Mezan de Malartic (link available on her page) and add her to your favorites. This way, you will be informed of all her new artworks listed for sale.

 

To be followed very closely !
more information about the artist
more information about the artwork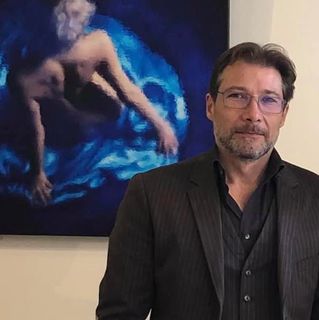 Article published by LJ Art Traffik