INST'ART 48h
Every weekend, an artwork at the studio price
Inst'art is the fruit of our desire to make art ever more accessible and give art lovers the opportunity to purchase an artwork they fell in love with, all the while preserving the artist's cut. That is why, every weekend, Art Traffik will offer an artwork with a 30% discount, taken from its cut.
The concept is simple :

 

Every Friday, we will announce on Instagram which artwork will be discounted

 

From Saturday 10am til Monday 10am the artwork will be listed on our website at the "workshop" discount price, hence, 30% off.

 

Also, keep in mind that every month we will announce, via our newsletter, the names of the artists whose artworks will be Inst'Arted.

 

Therefore, if you wish to be in the know of which artwork will have the "workshop" price, check us out on Instagram every Friday or follow our Instagram account !
INST'ART #1 :

 

From Saturday Oct. 10th, 10 a.m to Monday Oct. 12th, 10 a.m

 

Madame Lacan

"Cyan" - 123 x 96 cm - (1̶7̶0̶0̶ ̶€̶) 1190€

 

 

INST'ART #2 :

 

From Saturday Oct. 17th, 10 a.m to Monday Oct. 19th, 10 a.m

 

Xxxxx Xxxxx

"Xxxx" - ??? x ?? cm - (????) ????€
Follow us on Instagram and see you Friday !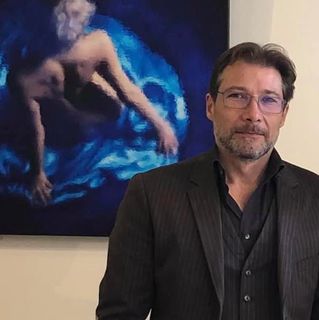 Article published by LJ Art Traffik