UP TO 30% OFF & FREE DELIVERY : ART TRAFFIK HAS REDUCED ITS COMMISSION TO SUPPORT ITS ARTISTS
END OF THIS OFFER 31-05-2020
Galleries closed; fairs and exhibitions postponed or cancelled; yet artists need to SELL IN ORDER TO SURVIVE !
And particularly since, to this day, there is little or no specific aide to support artists, even though they are affected by the coronavirus crisis.
ART TRAFFIK HAS DECIDED TO LOWER ITS COMMISSION : AN EXCEPTIONAL OPPORTUNITY TO BUY ART AND THUS SUPPORT ARTISTS !
- up to 30% OFF *: reduced prices, per artist, listed below
- Free delivery
* in accordance with the artist's agreement
Now's the TIME to TREAT YOURSELF to ART !
- benefit from exceptionally reduced prices
- you wish to support the artist whose artworks you love
- you've never spent as much time confined in your home and you wish to embellish your walls
TO TAKE ADVANTAGE OF THIS OFFER :
All prices displayed on the website are before discount
Discover our reduced prices, per artist, listed below
Once you've found the artwork, simply contact us and a promotional code, reduced price AND free delivery, will be communicated to you.
3 WAYS TO CONTACT US AND RECEIVE YOUR PROMOTIONAL CODE :
- From the artwork's descriptive page, use the button : « make an offer »
- Via our online chat (chat button displayed at the bottom right-hand corner of your screen)
- By email : contact@art-traffik.com (specify the artwork you're interested in)
THE REDUCTIONS PER ARTIST :
Artists 30% off (and free delivery) :
 

 

Jonathan OUISSE

Artworks starting from .... 1.260 euros !!!

(instead of 1.800 euros)

 

 

 

Antoine JOSSE

Artworks starting from .... 140 euros !!!

(instead of 200 euros)

 

 

Yann SCIBERRAS

Artworks starting from .... 4.450 euros !!!

(instead of 6.500 euros)

 

 

MCF

Artworks starting from .... 490 euros !!!

(instead of 700 euros)

 

 

Lahcen KHEDIM

Artworks starting from .... 1.050 euros !!!

(instead of 1.500 euros)

 

 

TAKALA

Artworks starting from .... 525 euros !!!

(instead of 750 euros)

 

 

Jérome ROMAIN

Artworks starting from .... 630 euros !!!

(instead of 900 euros)

 

 

Caroline POULET

Artworks starting from .... 1.330 euros !!!

(instead of 1.900 euros)

 

 

Agnès LACOMBE

Artworks starting from .... 105 euros !!!

(instead of 150 euros)

 

Claire MOOG

Artworks starting from .... 280 euros !!!

(instead of 400 euros)

 

 

CHRIS

Artworks starting from .... 1.750 euros !!!

(instead of 2.500 euros)

 

 

Virginie MEZAN DE MALARTIC

Artworks starting from .... 210 euros !!!

(instead of 300 euros)

 

 

Wilco WESTERDUIN

Artworks starting from .... 245 euros !!!

(instead of 350 euros)

 

 

Laetitia LESAFFRE

Artworks starting from .... 210 euros !!!

(instead of 300 euros)

 

 

Sandrine JARROSSON

Artworks starting from .... 1.540 euros !!!

(instead of 2.200 euros)

 

 

Stéphane GUBERT

Artworks starting from .... 385 euros !!!

(instead of 550 euros)

 

 

Jean Louis D'ANGELO

Artworks starting from .... 126 euros !!!

(instead of 180 euros)

 

 

Nicolas CANU

Artworks starting from .... 105 euros !!!

(instead of 150 euros)

 

 

Magdalena LAMRI

Artworks starting from .... 840 euros !!!

(instead of 1.200 euros)

 

 

Etienne BOITEUX

Artworks starting from .... 700 euros !!!

(instead of 1.000 euros)

 

 

Pierre RIOLLET

Artworks starting from .... 1.540 euros !!!

(instead of 2.200 euros)
Artists 20% off (and free delivery) : 
 

 

Jean François LARRIEU

Artworks starting from .... 360 euros !!!

(instead of 450 euros)

 

 

Olivier CHALMIN

Artworks starting from.... 2.000 euros !!!

(instead of 2.500 euros)

 

 

LENY

Artworks starting from .... 1.840 euros !!!

(instead of 2.300 euros)

 

 

Patrice PALACIO

Artworks starting from .... 2.800 euros !!!

(instead of 3.500 euros)

 

 

Patrick LARCEBAL

Artworks starting from .... 384 euros !!!

(instead of 480 euros)

 

 

Anthony LAMBERT

Artworks starting from .... 800 euros !!!

(instead of 1.000 euros)

 

 

Aurélien LABORDE

Artworks starting from .... 960 euros !!!

(instead of 1.200 euros)

 

 

Mira T

Artworks starting from .... 320 euros !!!

(instead of 400 euros)

 

 

Mikael Theimer

Artworks starting from .... 480 euros !!!

(instead of 600 euros)

 

 

Nissim BEN ADERET

Artworks starting from .... 1.680 euros !!!

(instead of 2.100 euros)

 

 

Samuel DOUGADOS

Artworks starting from .... 440 euros !!!

(instead of 550 euros)

 

 

Sandra CHERES

Artworks starting from .... 400 euros !!!

(instead of 500 euros)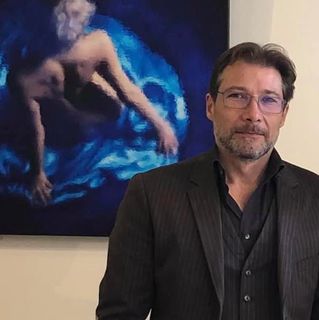 Article published by LJ Art Traffik