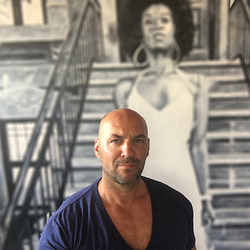 Nationality :

French

Age :

49 y.o.

Residing :

France
Artist's prices ranging from
2 200 € to 10 200 €
Followers Art Traffikers
8
Art is an artist's vision of the world as seen through his prism. Even though I want more contemplative paintings, our era is filled with more and more subjects which I cannot ignore and must denounce.
Yannick Fournié
Introducing Yannick Fournié
Ambiguity and dichotomy are probably the words that best define Yannick and his paintings.

 

Between strength and sensitivity, anima and animus, social identity and his inner self, and between appearances and feelings; like an invitation to look beyond "first impressions", to look beyond the surface. With a rich and atypical life path, but also intense (with a career as a French Army paratrooper), estranged from the artistic world and its sensitivity. But does that make him devoid of it ? Quite the contrary ! It has always been a part of him. So, in 2010, at the age of 38, Yannick seized a canvas and picked up a paintbrush : he chose the medium of painting, which imposed itself to him, as a means to externalize his sensitivity and the struggles that inhabited the man he had become. Like a personal drive that led him to the urging desire to use this artistic and sensitive medium to express that intensity burning inside him and…to pursue his quest for meaning.
His theme ? Identity and its duality, and its many duplicities. Between who we are, inwardly, and society's codes we don, outwardly. Yannick toys with this ambiguity, sharpens it to sublimate it into artistic metaphors which, in the end, touch us all. Each of Yannick's artworks, without exception and regardless of the related theme in his series, compares the human characteristics of the contemporary identity, in order to lead us to a questioning, aesthetically. By means of his subjects, or through our perception and echoing, his artworks beset us.

 

Quickly, Yannick created a highly recognizable artistic identity, above and beyond his style, through his exploration of the symbolism of wrestlers' masks. Masks are what allow wrestlers to create their identity, in the ring and on camera; a popular identity that represents the fictional protagonist's values (it distinguishes the Good from the Bad, the "good guy" from the "bad guy"); ring upon which the man roleplays, concealing his true identity and preserving his anonymity when the mask is off.

 

Yannick's characters wear a mask, a wrestler's mask . From your typical businessman to a police officer, or your average joe we could all identify with (even the artist himself, in self-portraits), for we all don a mask behind which we hide our true identity. We coat our feelings, fears and complexes, and egos, in the true sense of the word, with the codes and trends that society imposes on us. The latter being transient, therefore, replaceable, just like one would switch masks.
As I mentioned, Yannick explored this metaphor over time, but that is not all. He quickly progressed, technically, but also in his way of using the mask and his subject matters, but with the key theme being identity. He began introducing women in his mask paintings, with the mask eventually falling and being thrown out. It even disappeared altogether, for Yannick began exploring women bathers and female movie icons, exploring Woman, in her social aspect as a symbol of desire; not only erotic, but in the broader sense, where, in today's society, the desire to possess has become our driving force. Or, angels holding baseball bats or crowbars. As I said, ambiguity, dichotomy, and duality around the theme of identity…

 

Regarding his color palette, it is without a doubt contemporary. Initially, Yannick worked with vibrant colors, always perfectly balanced. Even if the subject matter is dimmed, with the chiaroscuro he does so well, his artwork will illuminate any room in which it is hung.

 

More recently, Yannick Fournie developed a color palette with less vivid colors; softer and with more shades. A shift in which the vibrant colors gave way to a gradual blend and variation of fewer colors, even to the extent of being monochrome. 
Simplified, yet his artworks are more intense and powerful; Yannick focuses on the essential, and the subject matter is sublimated…

 

Technically and aesthetically, Yannick prefers to use acrylic paint rather than oil, because it allows him, determined and compulsive, to project his thoughts and emotions, in the momentum of creating an artwork. Nonetheless, it also brings a certain glow to his paintings. And, even though he has only been painting for a few years, the precision and accuracy of his strokes is quite impressive. And his technic, similar to the likes of realism, is striking, however, it isn't its main purpose or goal, but rather a way to add emotions and aesthetics, with his "streaks" and the pictorial "flesh" composed of paint, of which he is quite generous.
In a year, I'll probably have to add several words to this text, rewrite it even. Because Yannick is progressing quickly, step by step, but swiftly; constantly evolving, technically and aesthetically, but keeping his DNA anchored and perfectly identifiable. They will always be works "by Yannick Fournie". But I'll go on to say, always more powerful and more intense.

 

So, it comes as no surprise that Yannick has already been spotted and exhibited in galleries, or that he has crossed over to the other side of the Atlantic to be a part of collections in the US. For all these reasons, we are especially pleased to present him and his artworks to you.

 

To be followed closely ? Definitely, especially if you love his universe…
THE ARTISTS HE ADMIRES : 
Artist on video
Latest posts about the artist